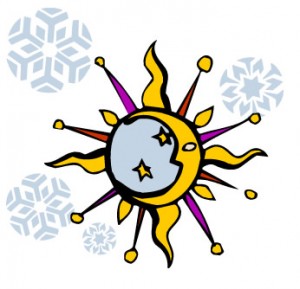 Our 2nd Annual
Winter Solstice Luncheon and Celebration Plus!
Sunday, Dec. 15, 2013, 1:00 – 4:00 pm
Cha-Cha's Cocina Mexicana, 6130 Stanford Ranch Rd., Rocklin
Following last year's wonderful afternoon, we are holding our Winter Solstice luncheon extravaganza at Cha-Cha's Cucina Mexicana restaurant in Rocklin again this year… We have a fun afternoon in store at this cantina with suns and moons for décor, as though it was designed just for us! We hope as many of you as possible can join us! Included in the festivities will be:
A special Winter Solstice meditation
Humorous holiday surprises and entertainment
A surprise gift
You are welcome to bring spouses, partners or friends, but the seating capacity in the separate room we will be using is limited to 30 people. (Separate checks have been negotiated.) Dinners range from $10-17 plus drinks. The guacamole is on NCGR-SAA! For approximately the same cost as one of our special guest presentations, we'll have a fantastic, star friendly kick-off to the holiday season and a sacred welcome the Winter Solstice.
Entrees do not include drinks and include these choices:
ALHAMBRE DE PORTOBELLO – $12.95 – NEW CHOICE!
Sauteed onions, bell peppers, zucchini, portobello mushroom & pineapple served in a sizzling platter with melted Oaxacan cheese & avocado. Served with a choice of corn or flour tortillas.
Chili Relleno – $11.95 Fresh poblano pepper, egg-white battered, fried and stuffed with fresh Oaxacan cheese and smothered with ranchero sauce. Served with Spanish rice and refried beans
Chicken Tostada – $10.75 A crisp flour tortilla layered with refried beans, Oaxacan cheese, lettuce, crema fresca, sliced avocado and pico de gallo
Chimichanga – $11.95 Deep fried beef or pork burrito, smothered with melted Oaxacan cheese and topped with guacamole, sour cream and pico de gallo. Served with Spanish rice and refried beans.
Tacos de Pescado – $13.95 Two seafood grilled Tilapia filets on soft corn tacos filled with cabbage salad and caper sauce. Service with Spanish rice and refried beans
Cha-Cha's Original Burrito Macho – $10.25 Macho tortilla, black beans, Spanish Rice, Oaxacan cheese, sour cream, pico de gallo, sautéed green and red bell peppers with onions, choice of skirt steak or carnitas. Smothered with salsa ranchera and melted Oaxacan cheese.
Carne Asada a la Tampiquena – $16.95 Mesquite grilled skirt steak with a guajillo cheese enchilada. Served with guacamole, pico de gallo, sour cream, Spanish rice and refried beans
No reservations needed, come on by and have fun.