Chet Zdrowski
Uranus, Gaia, and Change

Sunday, January 27, 2019
2 pm – 4:30 pm
NEW LOCATION

Sylvan Community Center
7521 Community Drive, Citrus Heights
Uranus, Neptune and Pluto represent powerful forces of change and transformation. They operate on large cultural levels and in our personal lives. They can be disruptive, emotionally difficult, and sometimes liberating. The changes symbolized by Uranus in particular often have an "out of the blue" feeling that can surprise, shock or awaken us. We crave change and we often fear it, but life itself is continuous change that can't be stopped.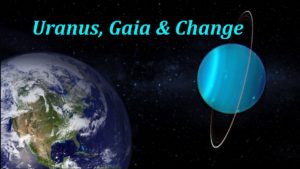 Uranus will make its full-scale entry into Taurus on March 6th 2019. The last seven years of Uranus in Aries have been pretty raucous. Now the focus of change is shifting to the earth sign Taurus. The next seven years could be pivotal in our relationship with Gaia, Mother Earth. The genius quality of Uranus may well prove to be our best hope for saving the planet. Understanding how Uranus operates in our chart and in the world can help us stay flexible and ready for change. Join us in exploring this amazing planet as it awakens, surprises and hopefully inspires us.
Chet Zdrowski has been a student and practitioner of astrology since 1977. He studied for several years with the late Richard Idemon and 12 years with Steven Forrest. Chet's greatest pleasure is to alert people to their unique gifts and individual path, and to help them understand and navigate their current life challenges. In addition to working with clients, teaching and writing, the primary focus of his current work is presenting Dane Rudhyar's teachings in an accessible and entertaining form to astrologers everywhere. Chet is the founder and leader of the "Transpersonal Astrology Group" that meets in Fair Oaks California. You can reach Chet at www.czastrology.com.

Registration
Pre-registration price: $15 NCGR members, $25 non-members (available through January 24)
Price at the door: $20 NCGR members, $30 non-members
ADVANCED REGISTRATION:
Advanced registration is closed for this event, but seats are available at the door. We hope to see you there!
~~~
Preregistration is important for this event, as space is limited.
Preregistration with prepayment must be received one week prior to the event. After that, only the pay at the door price is available, space permitting. Contact us at

[email protected]

for updates on seats available.
Refund Policy for Lectures/Workshops
There will be NO CASH REFUNDS offered for workshop or lecture pre-registrations
If the leadership team is advised at least 24 hours prior to the event that a registrant will not be able to attend the event, the registrant will be offered the choice of transferring the payment to one of these options: (a) a future NCGR Sacramento Area event; OR, (b) membership in NCGR Sacramento Area
Please notify us at

[email protected]

if you will be unable to attend. The email stamp will be used to determine the time of notification. If you are unable to notify us by email, please call (916) 276-1858.
~~~
Location
We are changing venues!



Sylvan Community Center
7521 Community Drive, Citrus Heights
More information about our meetings.
~~~