Linda Kubota Byrd
The Game of LIFE Through the Lens of Astrology
Stay at Home Webinar
Sunday, November 13, 2022
2 p.m. – 4 p.m.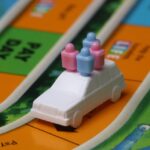 Linda Kubota Byrd has Aquarius rising with a tight trine from Uranus, so this presentation is going to be different. We'll be exploring your chart through the lens of the cosmos. You can let your brain rest and engage your imagination. This presentation will include self-exploration, practical considerations, food for thought, while being experiential and insightful. We'll be discussing how your chart is reflected in your life and how you can use astrology to gracefully transition from victim to creator. Join us for this interactive workshop where you'll not only learn more about astrology and yourself, but have fun in the process!
Linda Kubota Byrd has been an astrologer and personal growth consultant for over 20 years. Her passion is bringing to awareness unconscious "default patterns." As a Certified Dream Coach, she combines Evolutionary, Experiential and Transformational Astrology with EFT, Heart Assisted Therapy, NLP and Inner Child work to dissolve blockages to help her clients live happy, fulfilling lives. She's a member of OPA, ISAR, NCGR, ACEP, SAA and was an Astrology Hub guide in 2020 and 2022, was a presenter for the "Secrets of the Masters summit" and was on the faculty for the London/ Mayo School of Astrology Student Conference. She's been on TV, radio, FB Livestreams and Stormie Grace's YouTube Academy. She is currently a consultant/ambassador for The Mountain Astrologer magazine and is president of NCGR Sacramento.
---
Payment (Step 1) and Zoom Registration (Step 2)
---

Step 1: Payment
NCGR Members: $10 – Non-Members: $15
After payment, you will see a link for STEP 2: Zoom Registration.

(

You may need to scroll the page especially if you are on a phone.)
YOU MUST COMPLETE STEP 2

to finalize your registration and receive the link to the meeting.

IMPORTANT: If after completing Step 2 you don't receive an email with a meeting link immediately from Zoom, let us know right away. We cannot be responsible if the registration process was not completed.
---
We wish to thank all of you who made donations during the pandemic "lockdown" period. You made it possible for us to offer our presentations for free, but who'd have imagined it would last for so long? Over time our donations have dwindled and so we find it necessary to start charging a small fee in order to continue to bring you top quality speakers. Starting in 2022, our fees are $10 for members and $15 for non-members. (As always, scholarships are available and donations are appreciated.)
---