Join us for our annual
Winter Solstice Luncheon and Celebration!
Sunday, Dec. 10, 2023, 1 pm
Catrina's Cantina
6130 Stanford Ranch Rd., Rocklin, CA 95765
It's the time again for our annual Winter Solstice luncheon! We have a fun and festive afternoon in store at Catrina's Cantina in Rocklin (same location we've gathered at before, new name) and hope as many of you as possible can join us!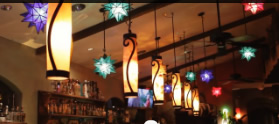 You are welcome to bring spouses, partners or friends, but the seating capacity will be limited There is a $5 registration fee required to hold you seat, This fee will be applied to extra tip and appetizers. (Separate checks have been negotiated.)
---
All meeting times are in Pacific Time. We wish to thank all of you who made donations during the pandemic "lockdown" period. You made it possible for us to offer our presentations for free, but who'd have imagined it would last for so long? We continue to bring you top quality speakers and our fees are now $10 for members and $15 for non-members. (As always, scholarships are available and donations are appreciated.)
---